Mercedes-EQ Lineup Overview
Discover some important information about the all-electric EQS, EQB and EQE!
The EQS

It's like no electric car you've seen. And it propels the Three-Pointed Star into a new tomorrow. Personally attentive. Seamlessly responsive. Uniquely imaginative. More than a new era of motoring, the EQS is here to make every day a fresh start for your own future.
Technology is tailored to serve every passenger in the spacious EQS cabin. It listens, and can tell who's speaking. Learns your face and fingerprint. It adapts to your habits, attends to your comfort, and anticipates your needs like no EV, or any car not born under the Star.
Multiple screens unify under a single 56-inch span of high-tech glass. The MBUX Hyperscreen uses artifical intelligence to bring features and commands to the surface on the go, with a "zero-layer" menu concept for unmatched ease of use.
The advanced electric powertrain inspires a new era in style, but the EQS body is designed around you. Taut like an archer's bow, the shape optimizes cabin comfort and aerodynamic efficiency. Elegantly futuristic details captivate the eye, yet the wind barely notices the EQS sneaking through.
The EQB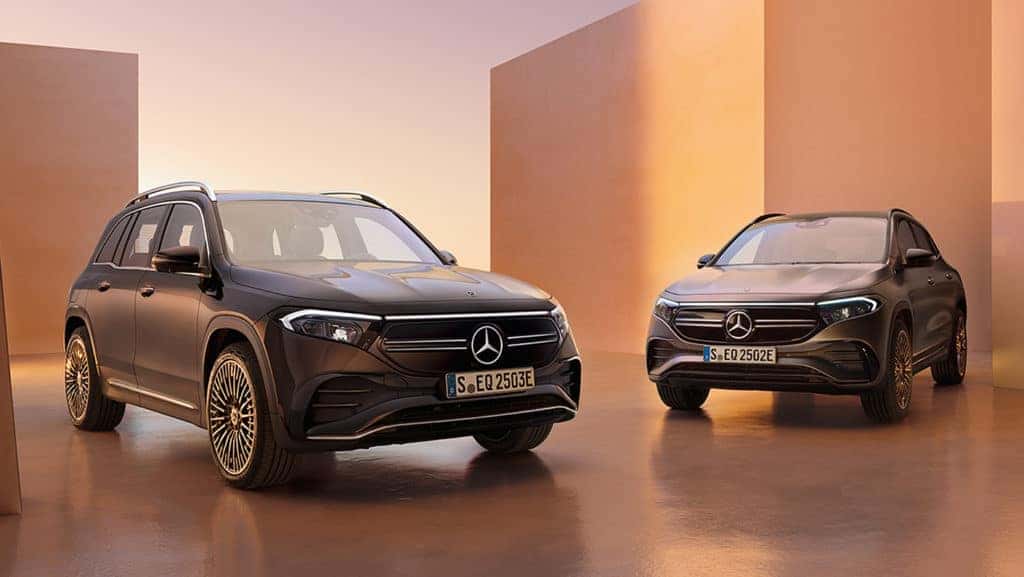 With the EQB, the Mercedes-EQ lineup welcomes an all-electric compact SUV that seats up to seven. It's efficient, versatile and accessible — the kind of vehicle you turn to when you've got plenty going on.
Let's talk space. With a wheelbase of 111 inches, the EQB delivers more than its convenient, compact form would suggest. Twenty-three cubic feet of trunk capacity allow it to serve as a workhorse for transporting luggage, groceries, sporting equipment and more. And when it's time to get the whole family moving, two additional seats unfold to form a third row. In front, generous headroom of 41 inches caps off an elegant Widescreen Cockpit, accentuated by a large-body dashboard and aluminum-styled fittings.
Outside, the EQB's black panel grille and continuous light strip at front and rear signal its membership in the EQ family, even as its distinctive, sculpted form carves out a place entirely its own. With a low drag coefficient, that form is more than merely aesthetic: It's design in the service of performance.
The EQB delivers robust power, with an excess of 350 (215kW) horsepower in the 350 4MATIC® model. Even more impressive, however, is the way it manages that power. Using Navigation with Electric Intelligence, the EQB monitors navigation data, traffic signals and information from vehicle sensors to conserve and recuperate energy wherever it can. It's also meticulous when it comes to managing journey times, factoring charging stations, charging duration, weather, topography and even your personal driving style into its estimates.
The EQB charges up at home with the purchase of a FLO home charger, either using a household socket or a Mercedes-Benz Wallbox. For a quick charge on the go, DC fast charging stations allow the EQB to go from 10% to 80% power in as little as 30 minutes. And with access to the world's largest charging network through Mercedes me Charge, the EQB's versatility goes well beyond the vehicle itself.
Look for the EQB to launch in 2022.
The EQE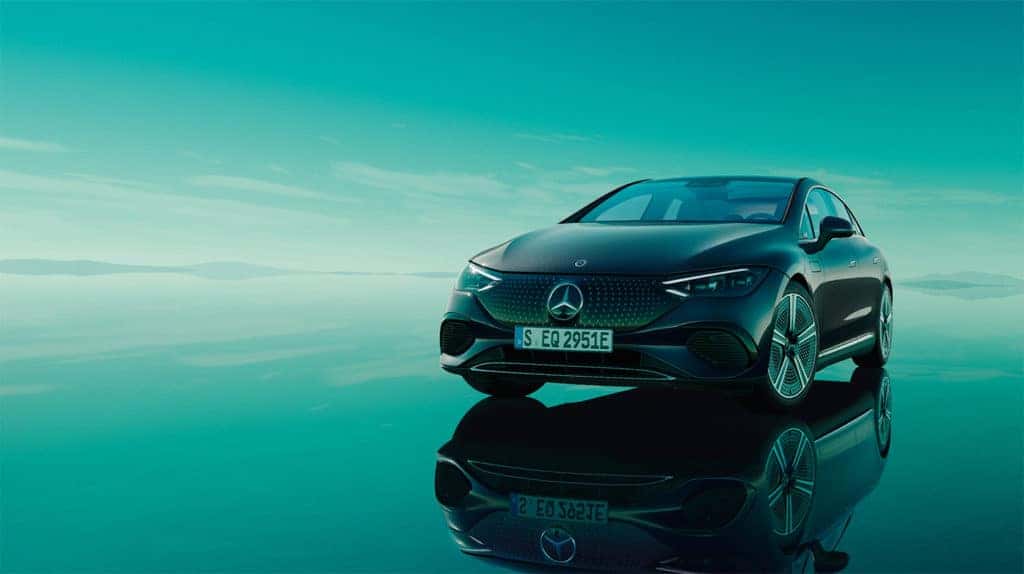 More spacious inside than a standard E-Class, the EQE's interior is a shrine to the pleasures of travel. The cabin itself has been insulated and refined to provide maximum refuge from outside noise and road vibrations. And the new ENERGIZING AIR CONTROL Plus feature helps keep the atmosphere pure, filtering outside particles, including dust and pollution, and can even help reduce viruses and bacteria. Pre-entry climate control further allows drivers to scrub the air before they climb in.
The Mercedes-Benz User Experience system continues to evolve, offering increasing ways to intuitively control the vehicle's functions. Nowhere is this more apparent than with the stunning MBUX Hyperscreen option, a panoramic dashboard interface with three displays tailored to driver and passenger.
But the options for personalized technology are even more profound: over-the-air updates allow drivers to download an increasing number of programs and functions. These include additional driving modes tailored toward younger drivers and valet parking, exclusive sound designs, animations and more. Over time, they'll ensure that the experience of driving an EQE never becomes routine.
Navigation with Electric Intelligence factors the elements of electric driving into its route calculations: available charge, charging stations en route, the driver's own driving style, and more, eliminating guesswork. And when it comes to charging stations, the EQE is connected to Mercedes me Charge, providing access to one of the largest charging networks in the world — and to an easy and convenient way to power up while on the go.
Find Out More with Mercedes-Benz Newmarket
Ready to find out more about the all-electric Mercedes EQ Lineup? Find out the latest updates with Mercedes-Benz Newmarket, and contact us with any questions. You can also buy online with home delivery, so be sure to let us know if we can help you!